A Diamond finger ring is loved by everyone, though there can be numerous designs in Diamond Engagement Rings as there are in all kinds of jewellery, yet to differentiate between different types of diamond rings. Elegant, lightweight, slim and sleek, this stunning platinum engagement rings for couples is a perfect celebration of a special moment in life. Engagement is a unique, joyful moment in anyone's life. If you invest feelings, the picture has to be perfect and hence the ideal investment is diamond finger ring.
One can make a differentiation on the basis of most preferred choices. The princess cut diamond ring has a shape that is a tough to achieve and is a unique form of engagement rings for couples. This is the basic and the most commonly found shape in diamond finger ring.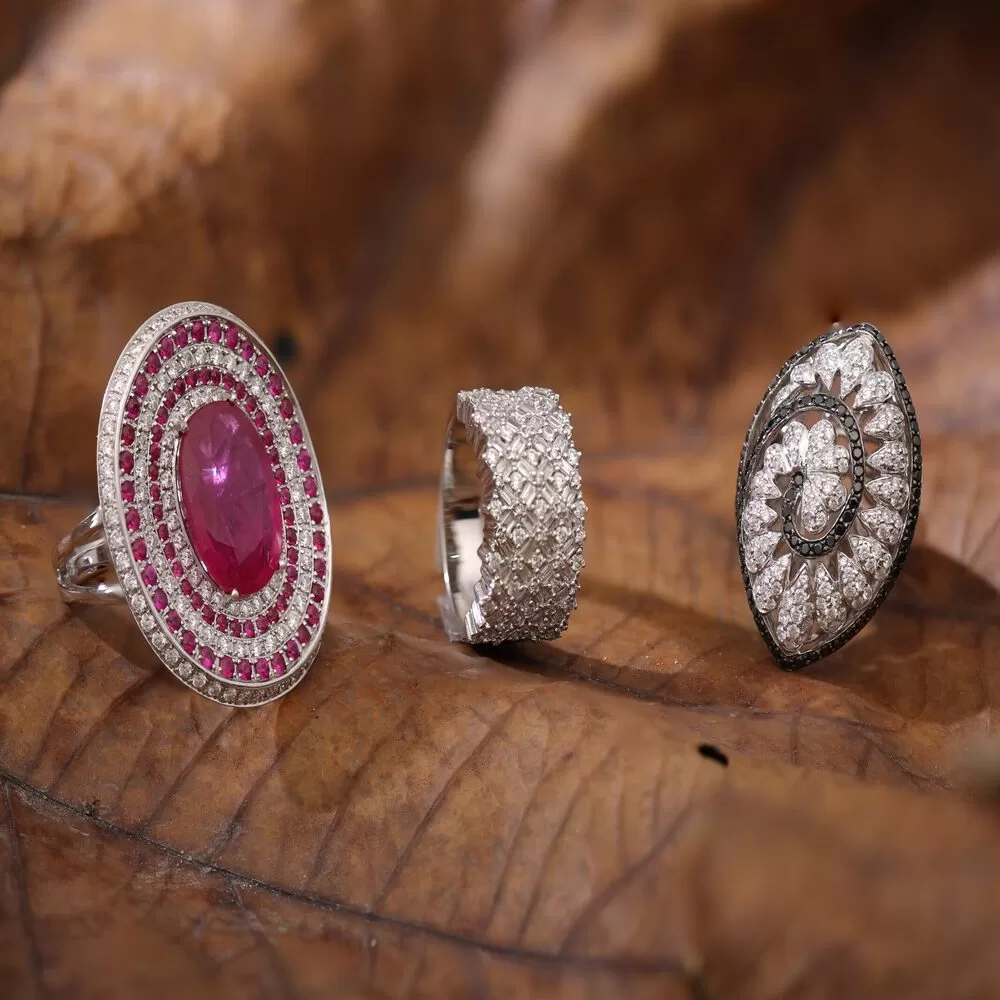 Platinum Engagement Rings for Couples
Be different, pick one of the exuberant designs for you and get noticed everyday with delightful daily wear diamond ring designs. Our in house designers giving you the ability to choose a designer bespoke diamond engagement rings, wedding rings, and more jewellery. This looks exceptionally lovely as a diamond ring and is mostly chosen platinum engagement rings for couples as the heart signifies love and that is what engagements are all about. Gifting your loved one a princess cut diamond ring will make them very happy.
A diamond finger ring which combines exceptional craftsmanship, precious materials, and cutting-edge designs. It is the most popular princess cut diamond ring that is used in a lot of jewellery pieces. These engagement rings for couples are fairly common yet look very beautiful and attractive which is why it is the most preferred too.
Diamond Engagement Rings – Swarnganga Jewel Arts
Looking for Vintage diamond finger rings? Check them with every design that is available in our store. Avail wide range of diamond engagement rings from the impeccable collection of Swarnganga Jewellery Showroom in Meerut.
Get a highly premium engagement rings for couples from Swarnganga Jewel Arts. Our finely crafted diamond rings can withstand intense situations and can bear high pressure. So, get a durable diamond finger ring for your partner that will be as strong as your relationship.
If you don't like a lot of artwork, a princess cut diamond ring is always a good choice. It also depends upon the design of your platinum engagement rings for couples. Some engagement rings are curved at the bottom, so if you want to wear both rings together, you might have to have a band custom made so it looks like a set.
And last but certainly not least…congratulations! I wish you a lifetime of happiness! 
Find Out More About The Swarnganga Jewels