Our Diamond Necklace Set has a circle design with round, brilliant facets reflecting light through the top of the diamond. This diamond necklace for women has a curvy and wavy texture to it. The cuts within the diamond enable maximum light to shine. This precious diamond necklace symbolizes the never-ending unity between two people.
Made from our most loved cut, the round diamonds reflects the most light and glimmer. They're made out of a range of materials and serve a variety of functions. These beautiful diamond choker sets are a jewellery wardrobe staple because they go seamlessly with any color or look.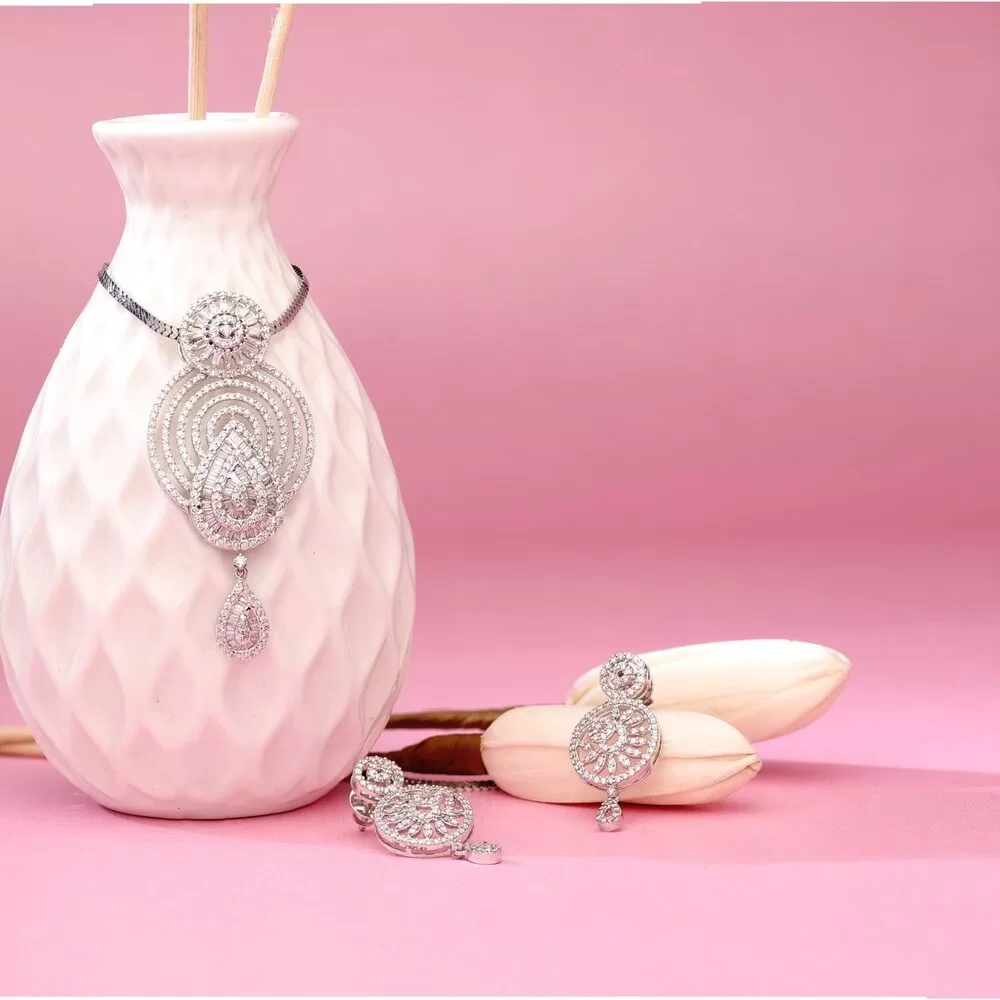 Diamond Necklace and Earring set
Many people are deciding on the look of wedding diamond necklace with the fashion trend nowadays. This is because bridal diamond necklace is more appealing than most jewelry out there. It definitely matches most modern apparel of today, compared to its diamond circle pendant counterpart. A classic and popular combination, diamond necklace and earring set brings an air of beauty and elegance to any outfit. Take a peek at our most recent collections of diamond necklace for women. Each of our Lab grown diamond is conflict-free, making every single stone hand-picked. 
The diamond necklace set is forever sparkling and radiant in every way. The circular design of this necklace is explicable in its very own manner. See timeless pieces from our collections of diamond choker sets, we offer the finest luxurious variety of diamond jewelry includes diamond circle pendant, necklaces, rings, bangles and more. 
Diamond Necklace Set – Swarnganga Jewel Arts
Look at the stunning collection of diamond necklace and earring set at our showroom Swarnganga Jewel Arts. With over several diamond choker sets, we are sure to have the perfect necklace to match any one specific style. Each of our diamonds is unique, with certification provided. This diamond necklace set is a unique addition to your statement jewelry collection. Each stone we handpick is made with love. This is one investment that you won't regret upon. So go ahead and make this a part of your closet soon. 
Find Out More About The Swarnganga Jewels