Traditional Pearl Gold Necklace Indian Designs
There is nothing more childish if you go for the new moti necklace set designs for fashion jewellery trends blindly. New variations and patterns in traditional pearl gold necklace indian designs are frequent. You must have to evaluate the evergreen designs and future trends. Sometimes new variations be adhered to in women's minds. After purchase, you can wear it only once or twice and the trend goes flop.
Wearing a pearl rani haar increases the chance to build a charming personality and confidence level. Exposing the quality and purity of gold necklaces, it allies in the level of 24-carat gold, 22-carat gold necklaces, and others according to need and capability. 
Choosing the twirling necklace that smells and tastes according to your outfits is the most confusing situation ever. A plethora of options from gold pearl necklace to rajwadi poothali, small pearl necklace designs in gold to green pearl long necklace, choker necklace set to beads and diamond necklace set to antique kundan set jewellery in gold.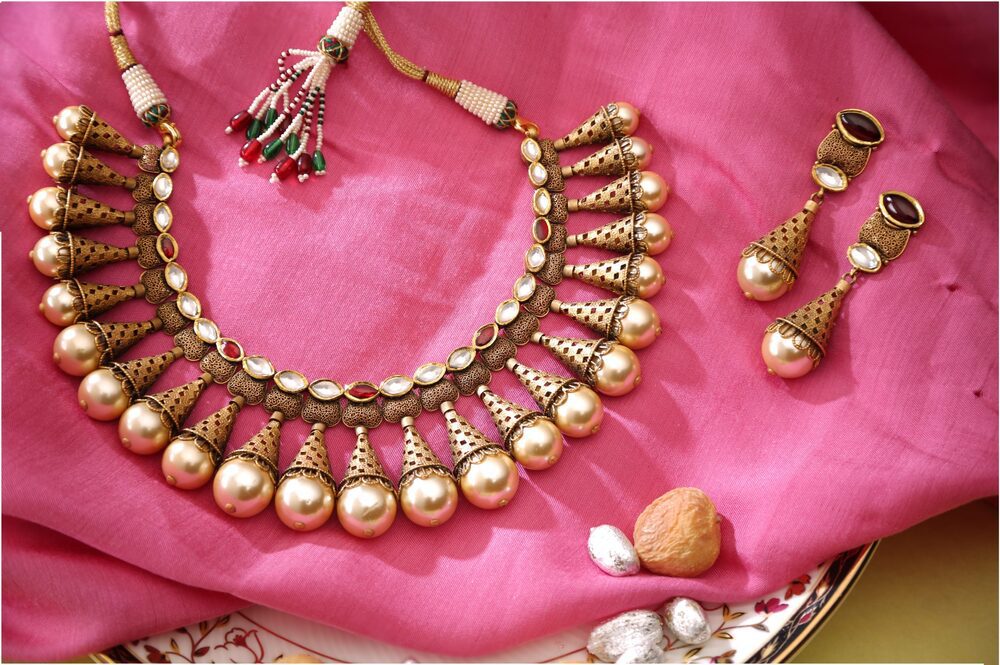 Trending Moti Necklace set Designs to Evaluate
We're offering traditional pearl gold necklace indian designs with affordable price for festive gifting purpose, we have gold pearl jewellery in a reasonable price range. You can gift any sober necklace earring set to your near and dear ones instead of buying kundan set jewellery separately.
The latest necklace design is made from different supplies and there's extensive explanation about each merchandise. Be sure to get into the details as to obtain the ideal creation that you've been firing for straight away. According to the theme, our collection of latest haram designs has necklaces in various themes. You can select two or three-layer necklace, pearl rani haar, or bridal wedding gold necklace design for the big occassions.
Traditional Pearl Gold Necklace Indian Designs – Swarnganga Jewel Arts
Visit the best Jeweller in Meerut to make a purchase. At Swarnganga Jewel Arts, we have stunning collection of golden pearl necklaces and traditional pearl gold necklace indian designs too. 
You will get many options to select from the trending moti necklace set designs.
Find Out More About The Swarnganga Jewels