As the name suggests this Bridal Diamond Necklace makes a royal statement for sure. You can wear it for weddings, parties, cocktails or any other gathering and event but the presence of this diamond necklace set will stay the same. It has been beautifully created with diamond stones which keep your neckline in the perfect manner.
Hold your breath because diamond choker sets are making the most unique combination here. This diamond necklace for women is the epitome of class and elegancy. You will appreciate the beauty of this necklace once you take a look at the picture and see how this will just be the best of anything you ever wanted.
Are you seeking the best floating diamond necklace set which fits every occasion? A diamond necklace like this is an absolute pleasure to keep. Nowadays, there has been a great demand for diamond choker sets.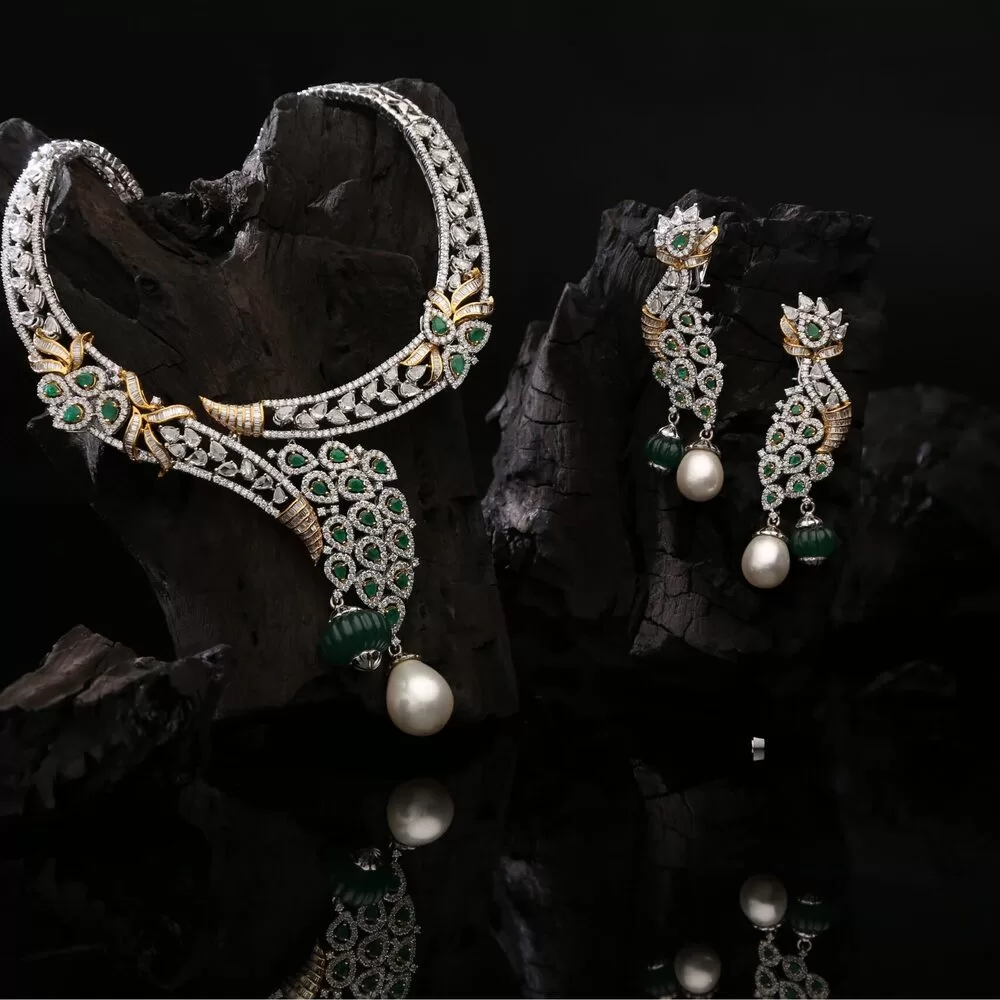 A Pearl and Diamond Necklace Set is Must Have!
There's nothing more classic and versatile than a pearl and diamond necklace set. The piece of jewellery is a delight for anyone to have. The Silver Pearls and diamonds is the best pair in terms of any necklace. Our bridal diamond necklace has been crafted with immense care to give you the best look possible. 
In India, diamond necklace and earring set are mostly dressed during the wedding. This particular diamond necklace is one of a kind Royalty. A wedding diamond necklace is a must have for every woman. The necklace is studded with extraordinary diamond stones which give a very elegant look. There is a sharp look to the border of this necklace which is another added bonus for the necklace.
Bridal Diamond Necklace – Swarnganga Jewel Arts
While you keep looking for wedding diamond necklace in Meerut, make sure to go through our collection. There are many varieties of diamond necklaces at Swarnganga Jewel Arts. We design different styles, sizes, and diamond necklaces for women.
The pearl and diamond necklace set is made of precious pearl earrings at Swarnganga Jewel Arts. We have a skilled jeweler and designer staff for handmade jewellery. If you want to look more beautiful at a wedding or other special event, you can dress up with a bridal diamond necklace.
Find Out More About The Swarnganga Jewels